Seal-Once Exotic with NANO GUARD Premium Wood Sealer
Eco-friendly waterproofer for exotic wood formulated for exterior/interior use. Great for decks, railings, siding, fences, outside furniture, and boardwalks.
Available in the following sizes: 1 Gallon and 5 Gallon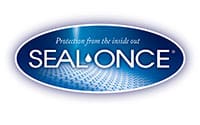 Purchase
Product ID: seal exotic
Downloads
Description
Seal-Once Eco-Friendly Exotic Premium Wood Waterproof Sealer
Available in 1 Gallon and 5 Gallon sizes


Seal-Once Eco-Friendly Waterproofer for Exotic Wood is an effective, non-toxic stain/sealer product formulated for exterior or interior use on all properly prepared, unsealed exotic hardwoods including Mahogany, Cumaru, Ipe, Teak, Tigerwood, Brazilian Cherry and more.
Uses: Decks, Railings, Boardwalks, Siding, Outside Furniture
Non-toxic, Zero VOC's, Safe for the Environment
Long Lasting, Deep Penetrating Bond Protects Against Mold & Mildew
Breathable barrier prevents freeze/thaw damage
Outperforms All Other Sealers & Stains
UV Stable
Water-Based, Odorless, Non-Flammable, Non-Combustible, Will Not Burn Skin
Will Not Harm Pets, Plants or Livestock
Penetrates and Absorbs to Form a Flexible Polymer Becoming Part of the Cellular Structure of the Wood
Helps Prevent Wood from Cracking, Splitting, Cupping and Warping
Clear Formula Allows Wood to Turn Gray Naturally
Semi-Transparent Tints Add Color Without Hiding Wood Grain
Paintable, Stainable, Breathable
Seal-Once Cannot Evaporate or Wash Away
Seal-Once Clear Formula Does Not Require Reapplication for over 6 Years on Horizontal Surfaces. Reapply Only in Worn Areas That May Have Removed the Polymer by Foot Traffic
Saves Time and Money
Non-Film Forming
Easy Soap & Water Clean Up