Seal-Once NANO Penetrating Wood Sealer
Formulated for exterior use - safe for the environment!
Great for decks, railings, shingles, siding, fences, planters, furniture, play structures, log homes, and structural framing.
Available in the following sizes: 1 Gallon and 5 Gallon
PLEASE NOTE: Each size is paired with the appropriate amount of semi-transparent tint,
which easily mixes into each formula to add color and depth without hiding the grain.

To order NANO GUARD WITHOUT A TINT, please order the color "CLEAR".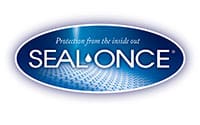 Purchase
Product ID: seal
Downloads
Description
Seal-Once™ NANO Penetrating Wood Sealer
Available in 1 Gallon and 5 Gallon sizes


SEAL-ONCE® NANO Premium Wood Sealer is an effective, eco-friendly, non-toxic sealer that deeply penetrates the surface to protect, preserve and enhance all types of wood.
Formulated for exterior use on properly prepared, unsealed wood surfaces such as decks, railings, shingles, siding, fences, planters and furniture. Allow pressure-treated wood to age up to six months before applying seal once total wood protection.


• Zero VOCs
• Prevents rot, decay, mold, mildew and fungi growth
• Waterproofs, prevents mold and mildew; UV protection.
• Penetrates wood up to 3/8".
• Helps prevent cracking, splitting, cupping and warping caused by water intrusion.
• Water-based, odorless and non-flammable.
• Non-Toxic - will not harm fish, plants, pets, or livestock.
• Clear formula maintains natural wood color.
• Tinted formulas add color without hiding grain.
• Soap & water clean-up.

PREPARATION
All surfaces should be cleaned before sealing for best penetration and performance of a coating. Remove algae, grime or mildew with appropriate cleaners.
After cleaning, test absorbency of wood by sprinkling a few drops of water on the surface. If the water does not readily penetrate the surface, stripping will be necessary to remove old coatings prior to applying this green wood preservative. (Sanding or removal of paint containing lead may be hazardous. Call 1-800-424-LEAD for details.)
APPLICATION
Do not use if air or surface temperature is below 35°F.
Do not apply in rain or when rain is imminent.
DO NOT THIN. Mix well. Stir contents or shake thoroughly prior to use.
Apply two even coats wet on damp with garden sprayer, brush, air-assisted and/or airless sprayer. Use medium spray pattern.
For best results, apply in the evening, out of direct sunlight, and at cooler temperatures.
When applying in direct sunlight and wood is hot, spray with a mist of water and apply immediately on dampened surface.
Apply to all wood surfaces and ends.
Do not use with other waterproofing products. An additional third coat may be needed on dry, porous wood.
Wood can be stained or painted after Seal-Once™ is cured.
Approximate coverage: 200-300 square feet/gallon. Apply two coats. Actual coverage will vary due to porosity of surface.
DRYING TIME
Allow water to evaporate before subjecting surface to light foot traffic. Depending on temperature 2-3 hours is sufficient. In most cases you can apply in the morning and have a barbeque in the evening.

CLEAN UP
Clean equipment and brushes with warm, soapy water. Store unused product above 32°F, protect from freezing.
You may also like...