WISE by Amorim Waterproof Cork Flooring
Welcome to Waterproof Done Right!
A sustainable and healthy waterproof cork floor in a floating solution for high traffic and high moisture areas.
This is big news - the new generation of cork flooring is here and it takes cork to the next level. It's what you love about rigid core flooring (stable and waterproof) without the things you don't (PVC and other nasties). And it goes where other floating cork can't -- the bathroom, the laundry room, the mud room. Lay-it-and-forget-it flooring that's both tough and good-looking.
FREE SHIPPING OVER 250 SF
LOW PRICE GUARANTEE!
Explore our WISE products below or REACH OUT TO LEARN MORE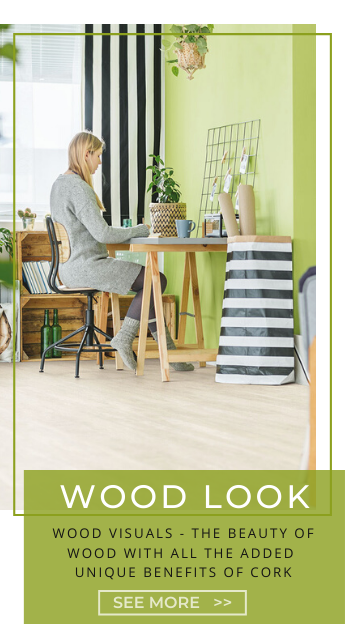 23 item(s)
Filter items by:
Species, Product Status, Construction, Installation Method, Plank Width, Collection Name, Brand

WISE by Amorim is a Climate Positive, PVC-Free product. Not many flooring companies protect and preserve the environment while producing flooring products, but Amorim does just that. With a carbon negative footprint, WISE is based on cork, a 100% sustainable material.
Amorim has reached a remarkable CO2 negative footprint throughout its manufacturing processes. This starts in the cork oak forest where cork is harvested without harming a single tree. Once extracted, the bark regenerates in preparation for the next harvesting (approximately every 9 years). And harvesting cork bark actually assists with reducing greenhouse emissions because a stripped cork oak tree absorbs, on average, 5 times more carbon dioxide than non-harvested trees.
And that's just the beginning. Amorim's industrial process is also environmentally-friendly. While the harvesting of most forest products requires heavy machinery, the stripping of the cork bark is done manually by highly skilled workers who prevent damage to the tree during the process. The transport of the raw cork material is made in trucks to factories and warehouses that are located within a few miles to the forests.
The resulting cork flooring solutions are sustainable to be sure. But they are also certified safe. All Amorim products have several Indoor Air Quality certificates, ensuring that no harmful particles are present in their flooring. In short, the WISE by Amorim line of cork flooring is sustainable and healthy for you and our planet and we're thrilled to be able to offer them here at Greenhome!