Kebony Natural Wood
Kebony is Natural Wood Made to Last - sustainable, durable and virtually maintenance free
What is Kebony?
Kebony is beautiful, sustainable and durable wood recommended by leading architects that requires no maintenance beyond normal cleaning.

Kebony modified wood is made from FSC® Certified Pinus Radiata (Monterey Pine), which has been treated with a bio-based liquid. The patented Kebony® technology is an environmentally friendly process developed in Norway that results in a unique wood product with outstanding durability and an exclusive smooth appearance. The process permanently modifies the wood cell walls which give the product premium hardwood characteristics and a rich brown color.
After exposure to sun and rain the wood develops a natural silver-gray patina shown here:
Natural weathering process shown over time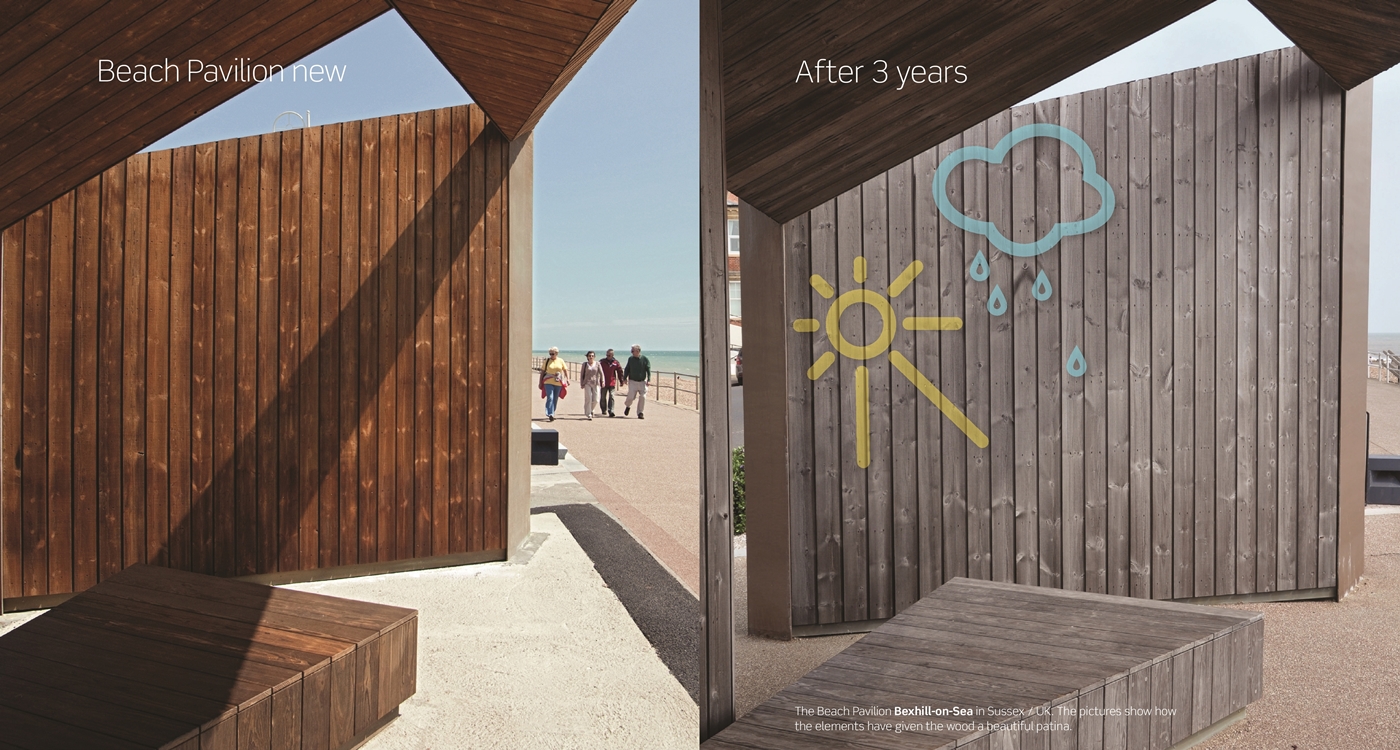 This shows how the elements have given the wood a silver-gray patina,
while maintaining its high-performance properties.


FEATURES
Real Wood
Low Maintenance - no additional treatment needed beyond normal cleaning
Hard, durable, stable - hardness levels increased to levels of the best hardwoods
Safe & Non-Toxic - No toxins or harmful substances
Guaranteed Long Life - 30 year warranty
Sustainable and FSC® Certified
Homogeneously treated and can be sanded, brushed, or cross-cut to length as required.
Outstanding Stability
Uses of Kebony Wood
Kebony is great for any external, above-ground applications where durability, sustainability and low maintenance are important, such as:
Decking
Terrace
Cladding
Facade and Roofing
Benefits of Kebony Wood
Kebony is Real Wood
Kebony is high-quality, real Monterey Pine. No composite and 100% organic. Kebony decking is produced from sustainably sourced lumber and the only addition is a bio-based liquid that, when added to the wood fibers, enhances and strengthens the wood's cell structure.

Refined and Beautiful
Kebony's CLEAR grade wood is smooth and silky with an initial deep brown color that will develop a natural silver-gray patina, gradually over a few months. Of course the graying process all depends on the exposure to sunlight and precipitation, both of which accelerate the graying. The wood may be treated with oil, in order to retain the original color as long as possible. Staining or painting will reduce the graying effect or completely change the color.

Maximum Hardness and Stability
The Kebony process significantly increases the wood's hardness and dimensional stability. However, it's still a natural product which means there will be some swelling and shrinkage due to changes in relative humidity.
Hardness, durability & maximum movement:


High Resistance to Decay and Pests
Kebony is highly resistant to fungi, rot, insects and other wood destroying microorganisms. It's ideal for all outdoor decking and cladding applications thanks to its high resistance and its durability rating of one, which is the best! As a result, Kebony is able to offer an outdoor lifetime warranty against rot for 30 years in above-ground usage.

Non-Toxic and Eco-Friendly
Kebony wood is not toxic to humans and has no harmful effects on the environment. The wood doesn't splinter and contains no toxins or chemicals. It's safe for all decking, and the wood doesn't get too hot in the summer.
Kebony wood boards can be burnt like regular, untreated wood, and won't release any other components than those released when burning untreated wood. It can also be disposed of and recycled in the same manner as untreated wood.

Sustainably Harvested
Kebony Clear RAP decking is FSC®-certified and the raw materials are sourced from commercially managed forests with large timber harvests. All of the suppliers hold certificates guaranteeing the origin of their timber.
Kebony Technology
The Kebony technology is an eco-friendly, patented process that permanently modifies the wood by forming stable, locked-in furan polymers in the wood cell walls, enhancing the properties of sustainable softwood and giving Kebony premium hardwood characteristics as well as a rich brown color.

Kebony uses a plant-derived waste product called furfuryl alcohol, which is produced from agricultural crop waste. The bio-based liquid enhances the wood's strength and durability.


Step 1: Impregnation
Impregnation is the process in which the wood is soaked in a bio-based liquid (the plant-derived waste product), furfuryl alcohol, to make it dimensionally stable wood.

Step 2: Curling and Drying
After the wood is soaked in the bio-based liquid, the wood is heated. This step is referred to as the curing step because the polymerisation of the liquid occurs and that polymer is permanently locked into the wood cells. It won't disintegrate or leak out of the wood.

Step 3: Kebony Wood
The resulting wood product has outstanding stability, hardness and a guaranteed long life due to the stable, locked-in polymers that increased the thickness of the wood cell walls by 50%. Kebony wood is also safe - it does not splinter, nor does it contain toxins or chemicals. It also maintains a comfortable temperature in the summer by not getting too hot to the touch.
Kebony is resistant against decay, fungi and insects in above-ground installations. It's also requires no maintenance or additional treatments beyond normal cleaning.
DOWNLOADS
Decking Overview Flyer
Use & Maintenance Overview
Kebony Clear RAP Data Sheet
Decking Installation Instructions
Certificate of Warranty